Sponge Cities is our latest report in partnership with WSP in New Zealand. If you are interested to learn more, a recording of our webinar discussing the report is available here. You can also read and download the full report here, and you can find the press release for this report here.
New Zealand has recently dealt with significant natural disasters, including the Auckland anniversary floods and Cyclone Gabrielle, resulting in tragic loss of life and extensive property damage. Responding to the escalating impacts of climate change-induced extreme rainfall events, a new report by Kali Mercier, WSP Fellow at the Helen Clark Foundation, explores the potential of transforming urban areas into 'Sponge Cities' as a proactive measure to minimise future risks.
Current urban design and flood management practices that rely on aging grey infrastructure are proving inadequate against the rising threats posed by rainfall-related risks. Inspired by ancient Chinese farming techniques, the concept of Sponge Cities advocates for harmonious water resource management through innovative measures such as 'daylighting' streams, reducing impervious surfaces, enhancing green spaces, and implementing green infrastructure. By creating space for water, these approaches complement conventional engineering solutions.
The report emphasises crucial actions, such as excluding vulnerable flood-prone areas from development and incorporating mātauraunga Māori knowledge to achieve comprehensive flood management solutions that enhance biodiversity and promote human well-being.
Proposing multiple strategies for adopting a nature-based flood management model, the report advocates for coordinated planning at national and local levels. It also recommends initiating small-scale incremental adoption of green infrastructure as a pragmatic starting point for all towns.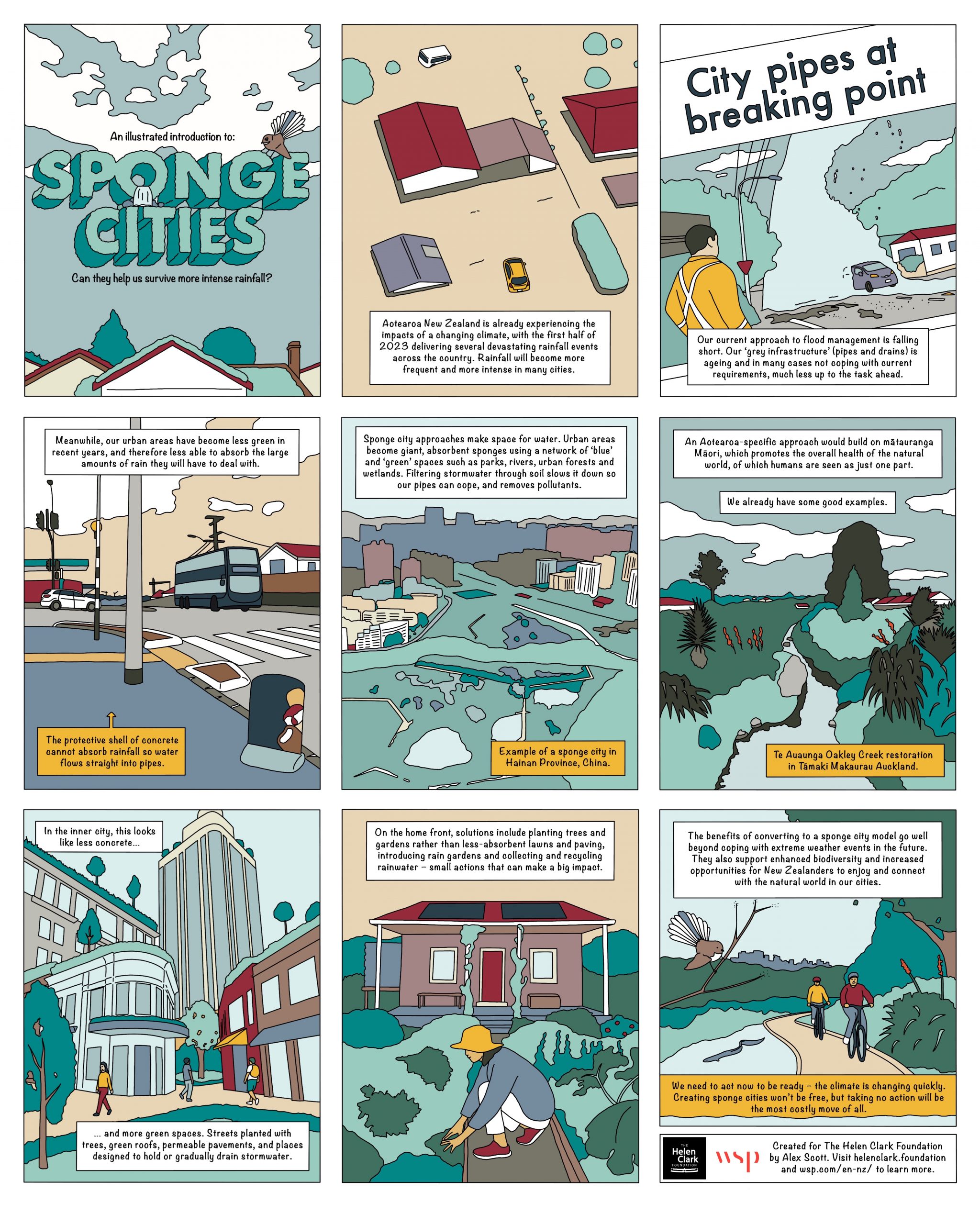 Key recommendations include:
· Retrofit our cities and towns to become sponge cities to help us survive and thrive despite increasing rainfall associated with climate change. Take a holistic, nature-based approach to ensure we also capture benefits for biodiversity and human health and wellbeing.
· Act urgently and decisively, and plan strategically for the long-term at the national, regional, and local levels. Name and prioritise nature-based sponge city approaches as a key climate adaptation approach for Aotearoa New Zealand.
· Develop a clear vision for a sponge cities model for Aotearoa New Zealand that draws on our strengths and unique context, such as mātauranga Māori, and community-led nature-based initiatives.
· Develop and agree a national funding approach that is coordinated and comprehensive.
· Incentivise and/or regulate for a range of 'spongy' solutions on public and private land, and in new developments.
Read more