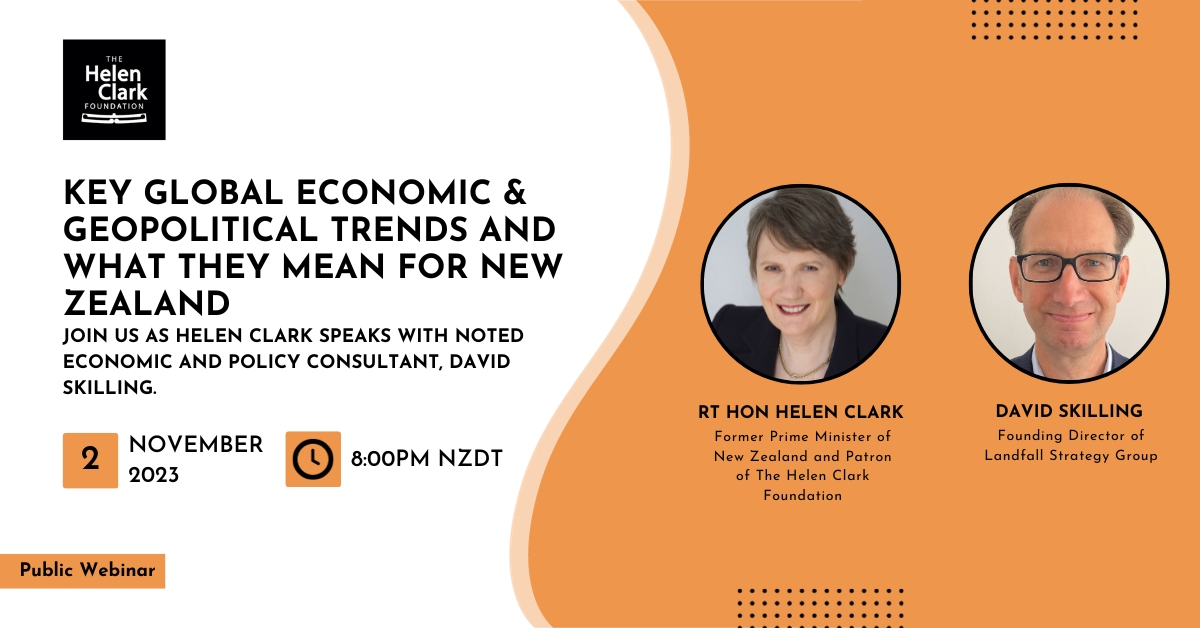 This is a public webinar, you can register here.
What are the key economic and geopolitical trends to watch as we approach the end of 2023? Is China's economy slowing and what would that mean for its relationships with our region and the world at large? What about the prospects for India? How is the US economy faring, and what are the potential global impacts of its possible presidential elections next year? Has inflation peaked globally? What does Russia's ongoing war against Ukraine mean for the global economy and global food security? And what does it all mean for New Zealand, a small economy exposed to global forces? Join us as Helen Clark speaks with noted economic and policy consultant, David Skilling.
Dr David Skilling is the founding Director of Landfall Strategy Group, a Netherlands-based economic and policy advisory firm that provides insights on global economic, political, and policy developments to governments, firms, and financial institutions. David serves clients in New Zealand, Asia, the Middle East, and Europe, with a specific focus on small advanced economies, and writes a widely read weekly note on global economic and political issues.
David served as Senior Advisor to the Secretary of the Ministry of Foreign Affairs and Trade in New Zealand between 2011 and 2015. Prior to founding Landfall Strategy Group in 2011, David was an Associate Principal with McKinsey & Company in Singapore, as well as being a Senior Fellow with the McKinsey Global Institute, McKinsey's in-house economic think-tank. Before joining McKinsey, David was the founding Chief Executive of the New Zealand Institute, a privately-funded, non-partisan think-tank, that was involved in the debates on savings, broadband, climate change, and economic strategy. Until 2003, David was a Principal Advisor at the New Zealand Treasury, advising on various strategic economic policy issues.
David has a Ph.D. in Public Policy, and a Master in Public Policy degree, from Harvard University, as well as a Master of Commerce degree in Economics from the University of Auckland.
Read more